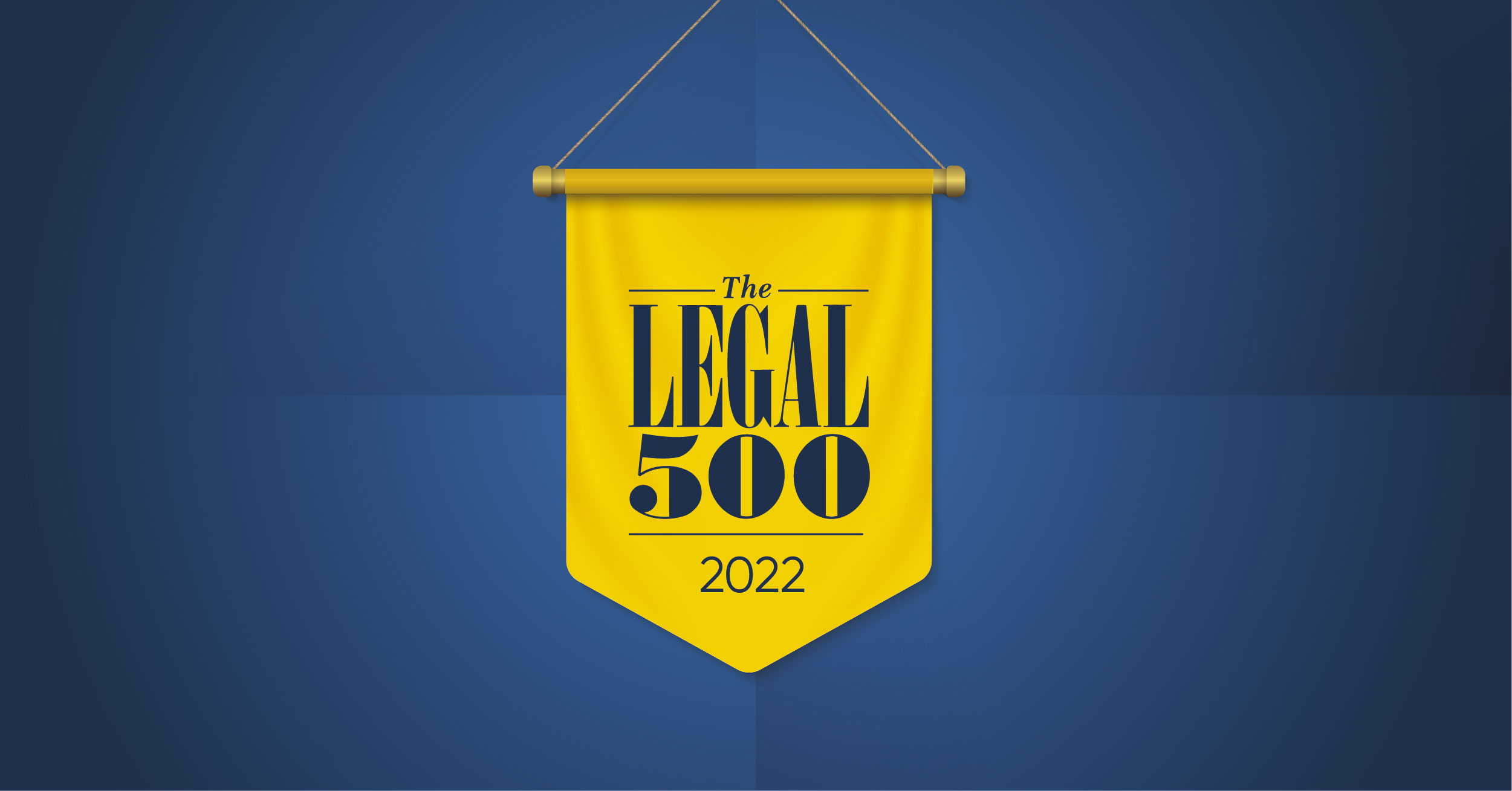 Eagerly anticipated every October, Legalease have published its latest Legal 500 guide. The Legal 500 prides itself on being an impartial and independent guide to law firms and as such, is highly regarded in the legal community for showcasing the best-in-class law firms, departments and individual Solicitors in regions across the world.
The annual Legal 500 law firm rankings are in and we're delighted that Jefferies has again been acknowledged as a leading law firm in the South East region.
This year, we've been recognised in the following 5 categories:
Corporate & Commercial
Commercial Litigation
Private client – Family
Personal Tax, Trusts and Probate
Real Estate and Commercial Property
Huge congratulations to Duncan Bennington , who was named a Next Generation Partner in Commercial Litigation.
We're proud of these results, and thrilled to once again be represented in 5 categories, as these reflect Jefferies' position as one of the top legal firms in the South East. Read on for all the details and reviews of our specialist departments.
Corporate and Commercial in Essex
Jefferies Essex LLP has a strong market presence in Essex, and it also attracts mandates from clients based elsewhere in the UK. Katrina Holland heads up the team, whose recent work included company buybacks/MBOs, joint ventures and demergers. Clients of the firm include SMEs, trade businesses, charitable organisations and investment companies. Amelia Hayes is knowledgeable about the property-related aspects of commercial transactions.
Practice head(s):
Katrina Holland
Other key lawyers:
Amelia Hayes; Duncan Bennington; Dennis Travell
Client testimonials:
The partner that I worked with, who was highly recommended, was knowledgeable, efficient and extremely helpful in resolving a stressful transaction, and that I would not hesitate to employ her were I ever conducting a similar transaction.'
'Katrina Holland was courteous, efficient and clear in her advice. She was always available to explain complex issues of law and to advise upon the most efficient and commercial routes forward.'
'Professional yet approachable with everything well explained.'
Commercial Litigation in Essex
Jefferies Essex LLP acts for many of the largest businesses in Essex and it also generates mandates from corporate entities located elsewhere in the UK. Under the leadership of managing partner Sarah Mitchell, the team is seen as a strong choice for advice on high-stakes disputes of the utmost complexity and significance for clients. Mark Rothman is currently handling one of the largest multi-party cases in the country. Duncan Bennington, who recently made partner, is recommended for his expertise in insolvency litigation, property disputes and director disqualification cases. Mark Rothman is now a consultant.
Practice head(s):
Sarah Mitchell
Other key lawyers:
Duncan Bennington; Mark Rothman
Client testimonials:
'Jefferies Essex have a great ability to understand what would make a situation lead to litigation and are able to give clear advice on the best way forward for the benefit of the client. With clear communication via the use of technology, they are able to provide the client with clear updates with regards to professional fees due and the progression of a claim at any given time.'
'More so than their competitors, when dealing with Jefferies Essex LLP I have always found all members of staff to be courteous, polite and professional.'
'I would assess the overall level of service received to be excellent. I felt they really wanted to understand my business to be able to give me decisive advice to enable me to make informed commercial decisions. Their team are readily available to answer all questions and we felt reassured by their comprehensive depth and breadth of knowledge. Advice is clear, concise and relevant at all times and, in my opinion, offered good value for money.'
Family Law in Essex
At Jefferies Essex LLP, practice head Anne-Marie Rainsford (who is a Child Panel-accredited solicitor advocate) handles public and private children law matters for parents and other family members, as well as children themselves. Elsewhere, the firm provides strong representation in financial cases; solicitor Farah Naz is prominent in divorce cases and financial relief proceedings that often have an international dimension. In addition, the firm is recommended for advice on domestic violence cases.
Personal Tax, Trusts and Probate in Essex
Jefferies Essex LLP is a strong choice for assistance with all aspects of the administration of estates. In addition, its team advises on wills, trusts, inheritance tax, powers of attorney and Court of Protection applications, among other matters. Group head Gill Tobin, who is a fellow of the Chartered Institute of Legal Executives, has more than 20 years of experience in this space.
Practice head(s):
Gill Tobin
Other key lawyers:
Client testimonials:
'The whole team – from the secretaries to the head of the probate team – are a credit to this law practice and I would highly recommend them for their genuine service as a whole team.'
'The people I dealt with were Gill Tobin in probate and Amelia Hayes in conveyancing. In both cases I really appreciated their quick and clear responses to my questions, and how they kept me informed of how our probate application and later property sale were progressing.'
'It was easy to deal with Jefferies. I had a brilliant Zoom meeting with a solicitor and cannot fault the service I received.'
Real Estate and Commercial Property in Essex
At Jefferies Essex LLP, department head Mark Hidveghy has 30 years of commercial property experience, which has included acquisitions and sales of factories, hotels and pubs, as well as shopping centres. Another key individual is Katrina Holland, who has played a key role in increasing the volume of the firm's work from referrers, as well as new and existing clients. Amelia Hayes serves a national client base, which includes developers, property investors and companies.
Practice head(s):
Mark Hidveghy
Other key lawyers:
Katrina Holland; Amelia Hayes; Helen Martin
Client testimonials:
'Jefferies Essex LLP are a warm and welcoming firm. They have a strong team of professionals that can support in many areas of law. They have provided us with support in many different areas, over the years, and we have always found their teams to be knowledgeable, professional and successful.'
'They meet deadlines and communicate well which is critical in these type of transactions and can make, or break them. However their approach is a calm and considered one.'
'I think their team are at the heart of their success. They are passionate and motivated and extremely loyal. I think this says an awful lot about the culture of the company that they work for.'
Legal 500 results overview
We've had another stellar year of achievements in the Legal 500 guide. These results are a well-deserved reflection of the dedication of every single member of the team at Jefferies, as we strive for the best results on every case. We'd also like to thank our clients for their kind reviews.
To find out how our passionate and motivated team can help you, please get in touch. Call us on 01702 332 311 or complete an enquiry form here and a member of our friendly team will be in touch.